MB-Q Series Tactical Displays
Macro-Blue Tactical Cockpit Displays are engineered to optimize the output from infrared sensors, EO cameras and moving map systems. Macro-Blue displays provide the clearest image possible under all conditions, (especially under extremes) such as direct sunlight, night and (NVG operation). We start with the highest grade industrial LCD panels, then modify and optimize to meet or exceed the MIL-STD-3009 standard for NVIS, MIL-L-85762A contrast & luminance, MIL-C-675 Anti-Reflective Glass- no sun hoods needed here.
These panels are individually tested and qualified, issued a QA certificate that documents the measurements for luminance, contrast ratio and NVIS. Macro-Blue displays are more robust than comparable displays on the market, very power efficient, have reverse battery protection, can precisely control the amount of current to each LED, which prolongs the life of the LCD panel thus, protecting your asset investment.

MB-Q Series Specifications
Passes DO-160-G and meets applicable MIL-STDs
The MB Q-Series Displays DO-160-G qualified in the following Categories:
Section 4 – Temperature & Altitude, Category B1 + C1Section 5 – Temperature Variation, Category B Section 7 – Operational Shocks & Crash Safety, Category B Section 8 – Vibration, Category U2 + R Section 15 – Magnetic Effect, Category Z Section 16 – Power Input, Category Z Section 17 – Voltage Spike, Cat A (600v Spike) Section 21 – Emission of Radio Energy, Category M Section 25 – Electrostatic Discharge, Category A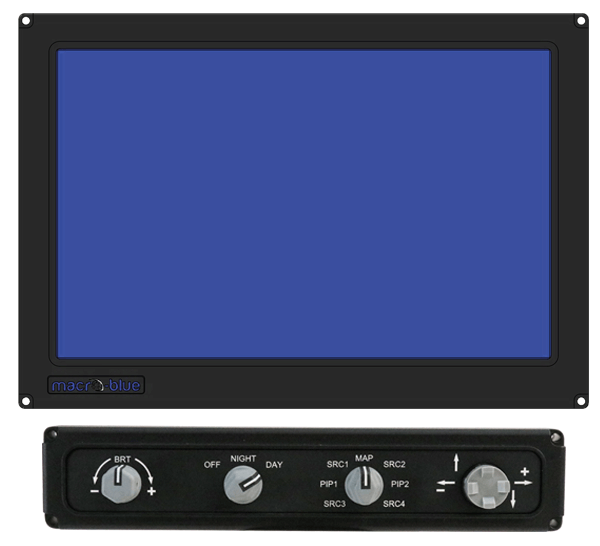 Designed to meet and exceed:
MIL-STD 3009 NVIS Radiance MIL-C-675 and MIL-C-14806A Anti-Reflective Glass MIL-L-85762A Sunlight Readability & Contrast Ratio Quality Standards
MB-Q Series Options
Screen and Controllers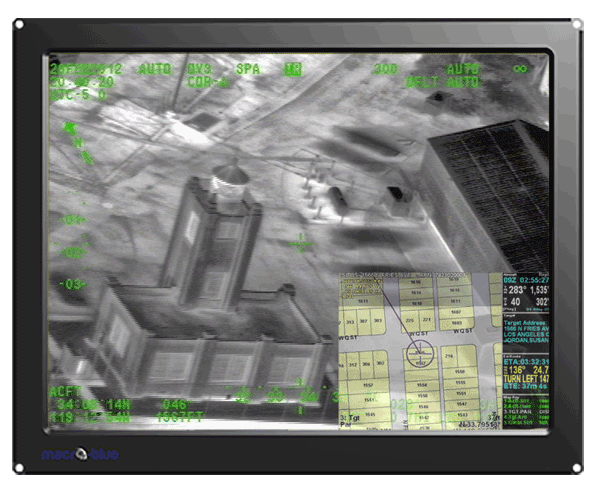 Dual-Mode NVIS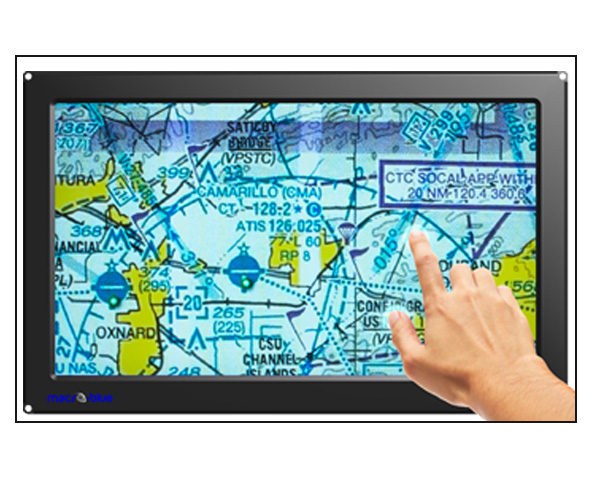 P-CAP Touch Screen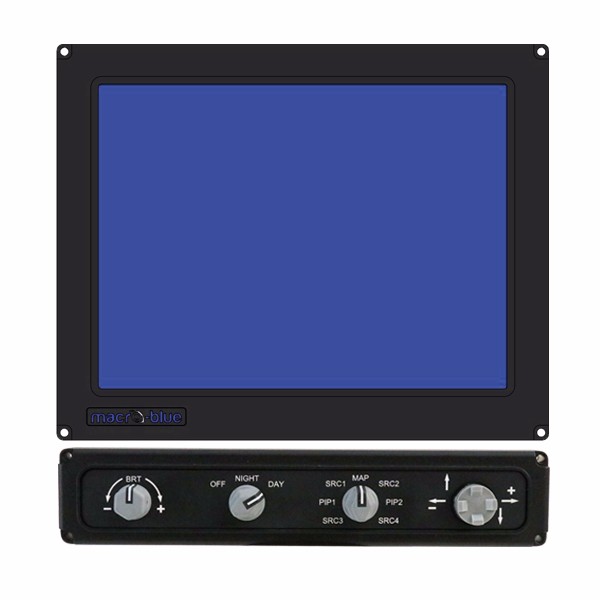 Remote Mount Military-Style Rotary Knob Controller
(weight 1lb 4oz, LHD 8.8 x 1.50 x.90)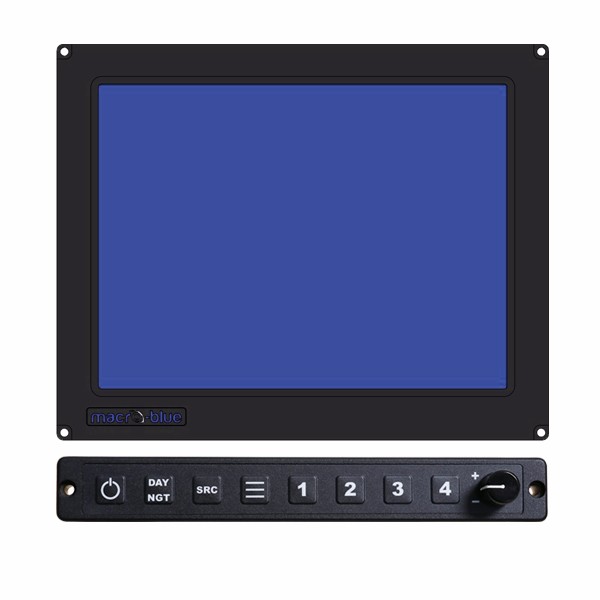 Push-button with rotary brightness knob
weight 5.5oz , LHD 7.20 x.950 x .75)
MB-Q Series Interface Options
Screen and Controllers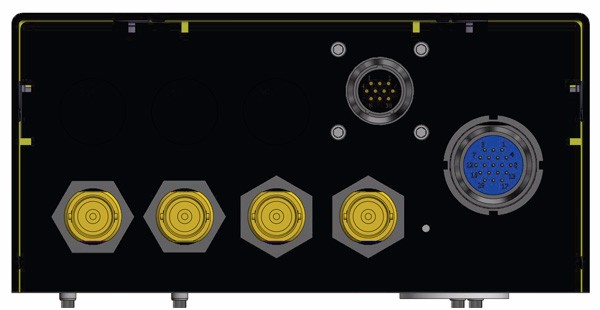 (4) 3G HD/SDI Video Inputs
(Standard on Base Models)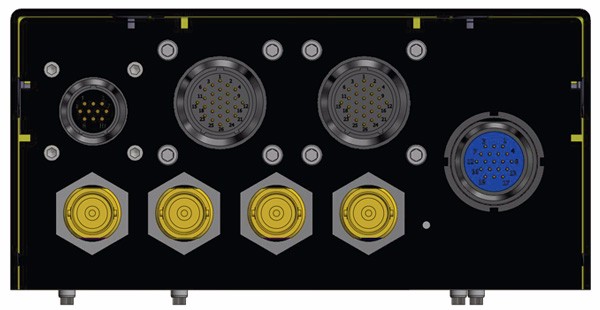 Up to 2 DVI-I inputs
DVI-I = DVI Integrated with VGA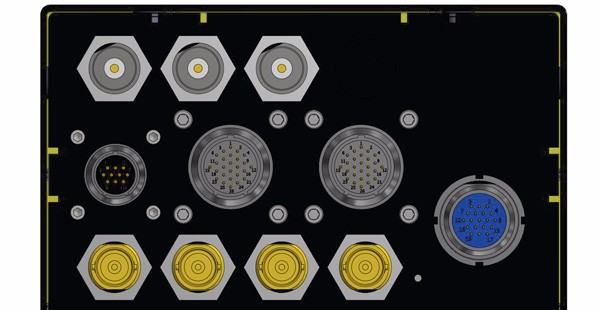 Up to 3 Composite Video inputs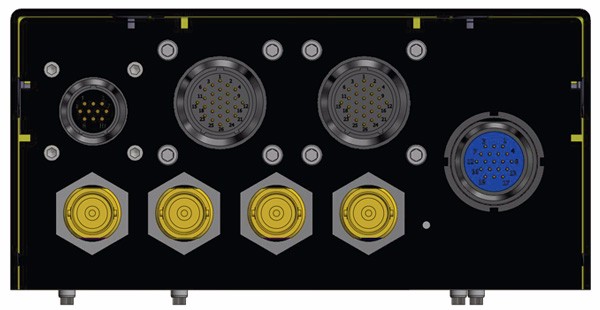 Up to 2 VGA inputs
DVI-I = DVI Integrated with VGA
---
SDIG421 Re-Clocking Splitter
Loop-Thru Option
Re-clocking 1:4 Splitter, SDI Video Input - switchable between SD, HD and 3gb SDI ; Buffers, re-clocks & reconditions the signal. When you need a loop-thru the SDIG421 is the best solution. Passed DO-160G environmental testing.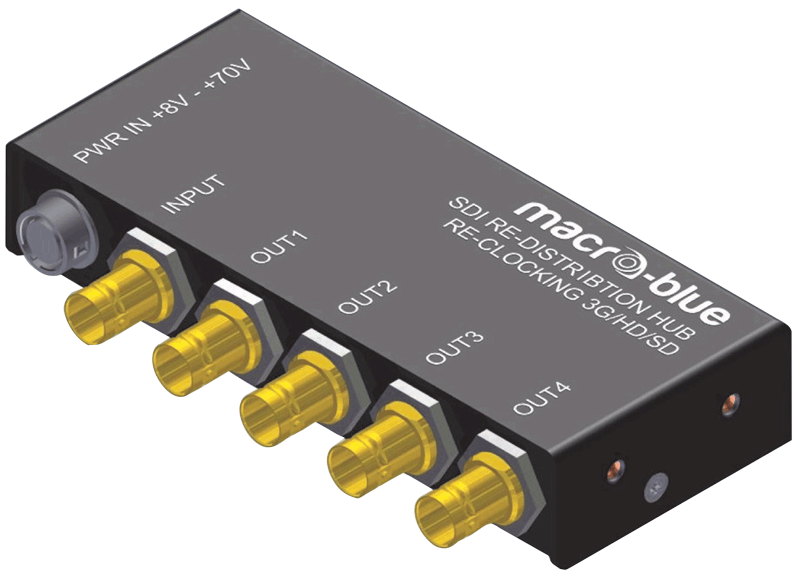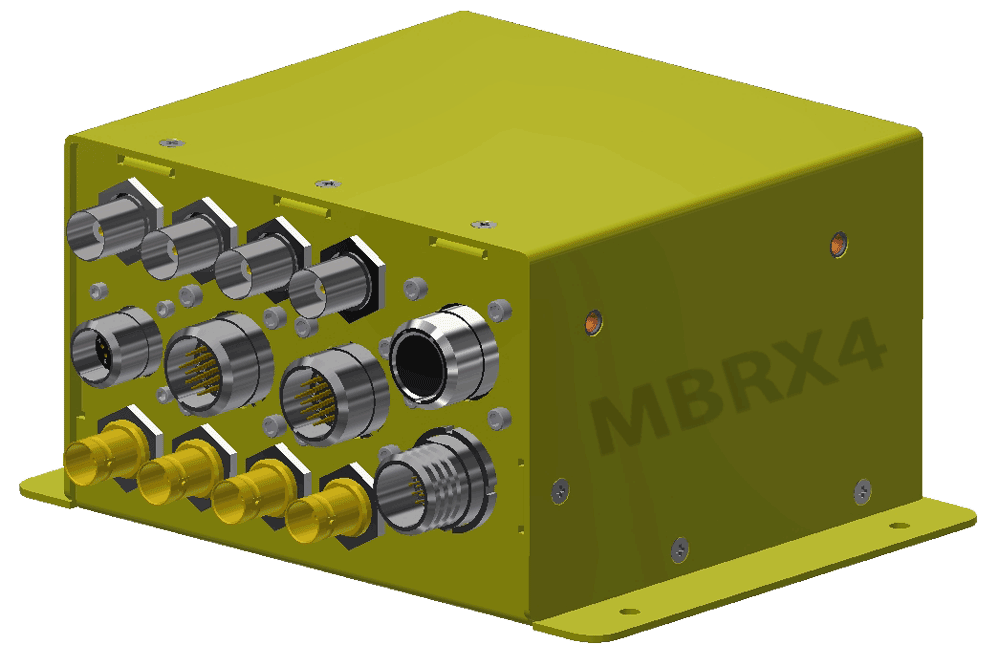 ---
MBRX4 VMU
Video Management Unit
Remote VMU (video management unit) box that can have several input combination options: 4 3g HD-SDI, 2 DVI-I ( DVI + VGA), 3 Composite Video, 1 AirInc 429 / Audio and 1 Link. Used with stowables and in Q4-2017 available in combination with most displays. Weight: 1lb 5oz