MA-Series Tactical Cockpit Displays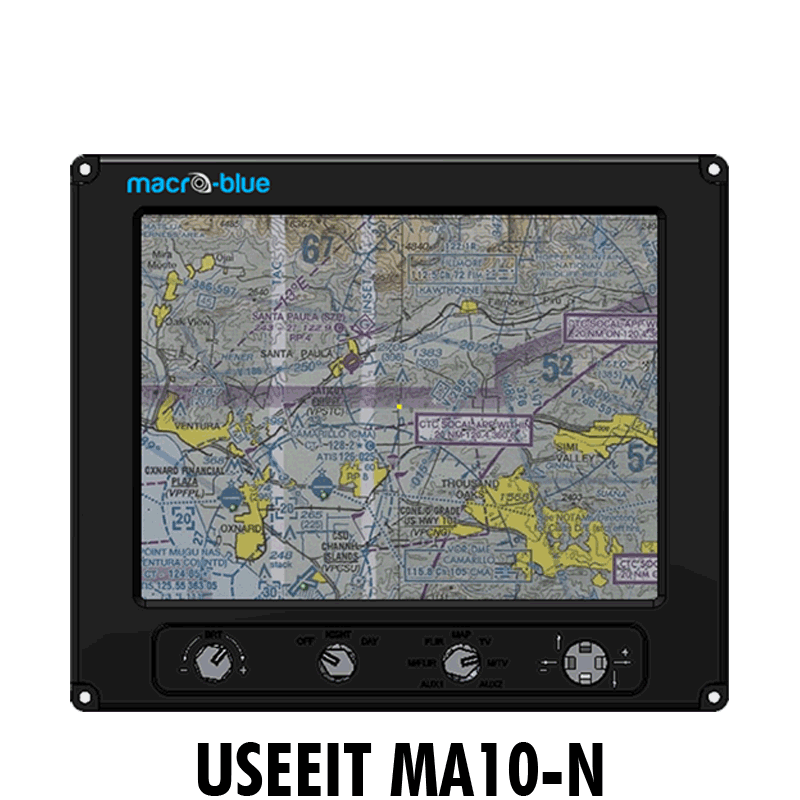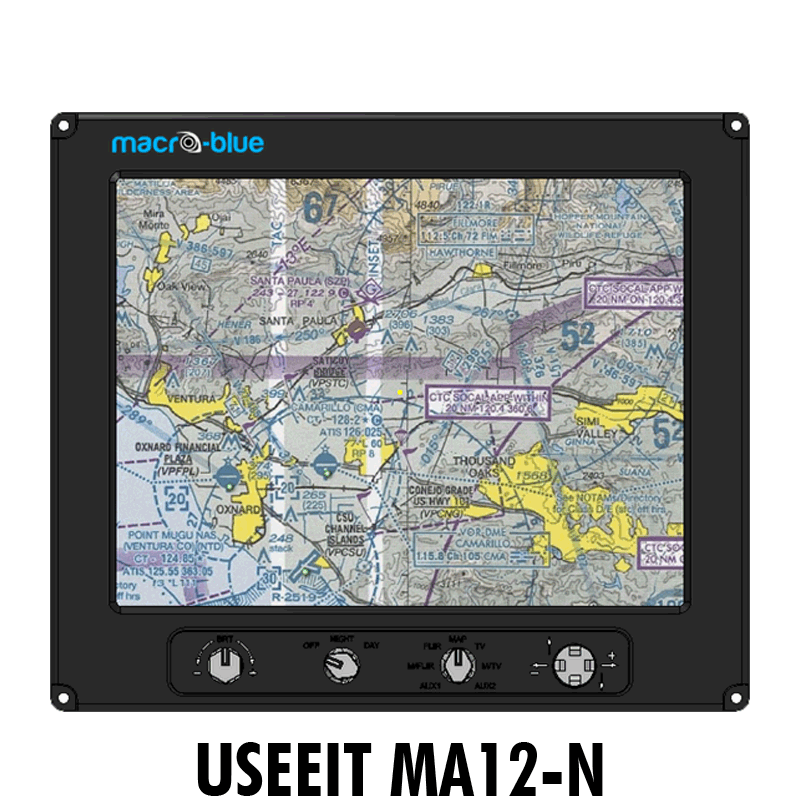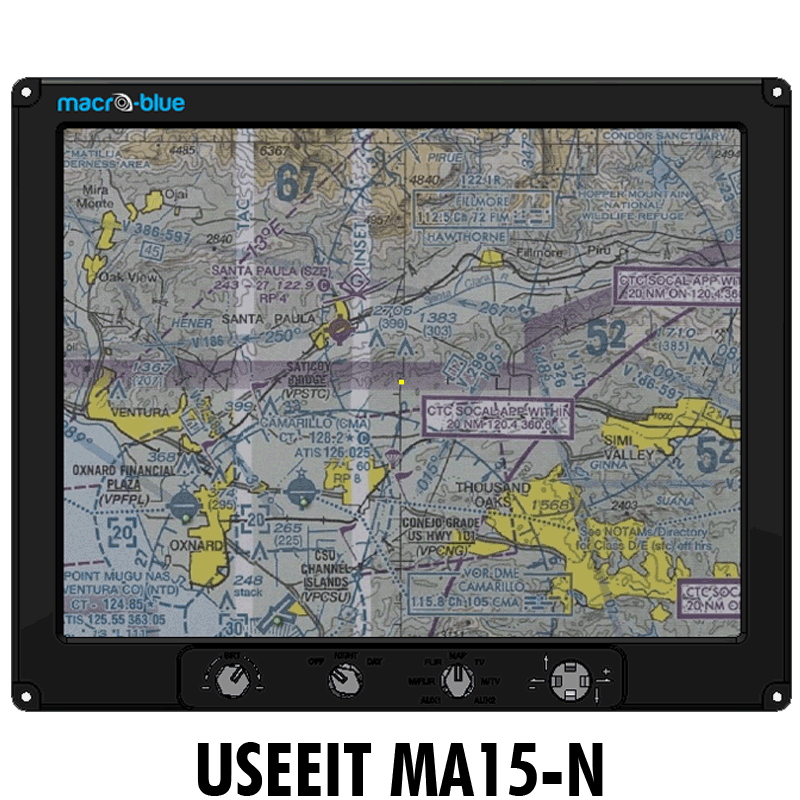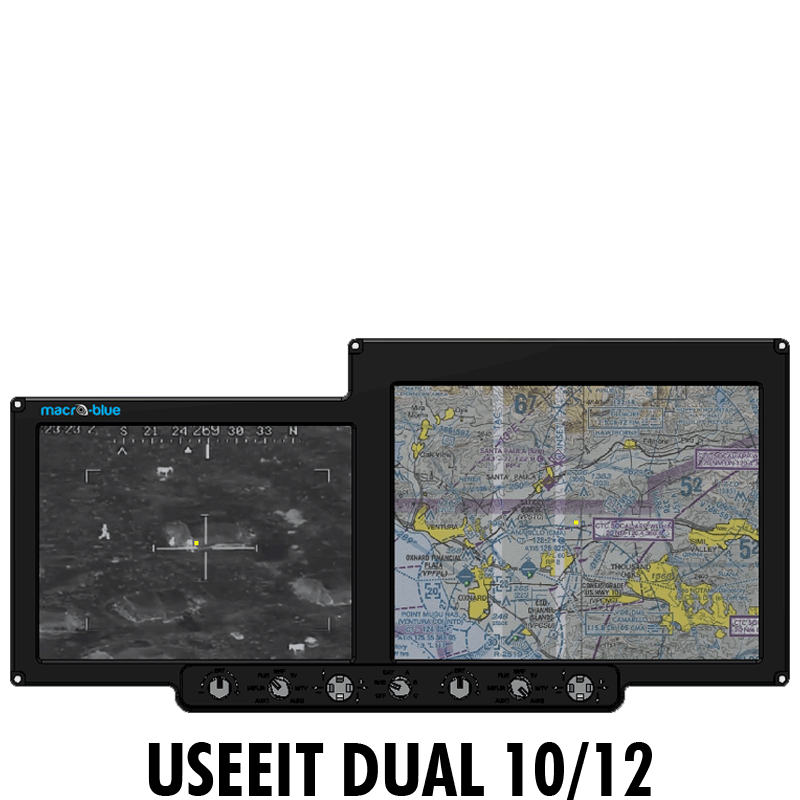 The Macro-Blue TECHNICAL DIFFERENCE!
The Macro-Blue MA-Series are designed for airborne and vehicle environments, optimized for gimbal cameras, moving map, EO & IR applications. Features highly durable powder-coated billet aluminum chassis, long life LED lighting, separate day mode vs. NVIS back-lighting, superfine brightness control, world class sunlight readability, independently driven LED strings, thermal protection, power efficient, wide operating range–30C
(-22F) to 80C (+122F), reverse battery protection, military style rotary switches & knobs. DO160F Certified.
Clearly the best in the market.
---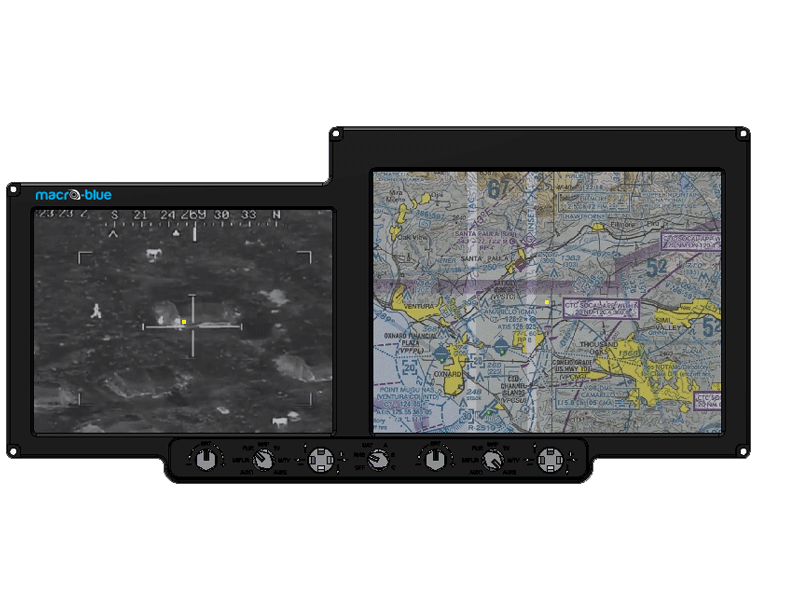 SUPERIOR LIGHTING & OPTICS
Dual Mode NVIS
The MA-Series incorporate 2 separate lighting systems into one display.  Day Mode provides FULL COLOR without an NVIS filter fro great sunlight readability and accurate color; a separate system for NVIS operation provides the best of both worlds.
Super Fine Brightness Control
The MA-Series provide over 3000 brightness levels in either Day or Night modes. This gives the operator the ultimate control with super fine control and wide adjustment range. Most competitive displays only provide 256 brightness levels and much less adjustment range.
Control Lighting
The controls are NVIS Green A manufactured and tested in accordance with MIL-C-675 and MIL-C-14806A.
NVIS
MA-Series units meet and exceed all the requirements of MIL-STD-3009. Every unit is fully tested.
World Class Sunlight Readability
Combining proprietary optical cover glass coatings ,index matched bonding, optimal LCD pixel patterns and 1400 to 1500nit back-light, the MA-Series exceed MIL-L-85762A sunlight contrast standards. MIL standards call for a minimum sunlight contrast of 4.6. MA-Series typically achieve 8 to 10 sunlight contrast, far exceeding this stringent standard. Most competitive displays advertising 1500nits and sunlight readability only achieve contrast ratios of 1.5 to 2.5 when put to the test.
SIMPLE OPERATION – ADVANCED FEATURES
Rotary Switches and Dials
All functions can be controlled via the front panel military style knobs. Common functions are only one click away. This avoids the "press and hold" style of settings often found with pushbutton control displays. Less often used advanced setup and adjustments are available via a 5 way rocker control. The MIL style knobs are easy to operate in turbulence. There is excellent tactile feedback even with gloved operation. Brightness control is smooth and non-linearly tapered to appear linear to the human eye. This provides the ultimate wide adjustment range; 3000:1.
NVIS Automatic Dimmer
The NVIS backlit controls automatically dim with the brightness and mode of the display, further easing operator workload.
Picture-in-Picture and Overlay
The MA-Series contains advanced video processing that allows two images to be displayed at the same time, either as a window within the background screen or as a transparent overlay. The amount of transparency is adjustable. The overlay image can be scaled from a small window to full screen. Windows can be placed anywhere on the screen. The two images can be swapped with a single switch operation. This allows such features as transparent graphics overlaid on live video, or viewing live video with an interactive map simultaneously displayed on one screen as either PnP or side by side.
Tested and Qualified
MA-Series is tested and qualified:
DO-160F
MIL-STD-3009
MIL-C-675
MIL-C-14806A
Long Life LED Lighting
LED backlighting is rated for 50,000 hours. We do not overdrive our LEDs.
Thermal Protection
LEDs incur permanent damage when operated at temperatures above 100C (212F). The MA-Series LEDs are conductively thermal cooled. Under rated operating conditions they do not reach these damaging temperatures. However, if operated in extreme hot conditions, the  MA-Series contain thermal sensors and circuitry that automatically reduce LED currents, preventing damage.
Wide Operating Conditions
The MA-Series is built with special wide temperature LCD chemistry. Operation is rated for -30C (-22F) to 80C (+176F). Many competitive monitors can only operate from 0C (+32F) to 50C (+122F). They may need heaters to operate below freezing. MA-Series Internal electronics are rated for the same range, -30C to +80C.
Quality Materials
Bezel is constructed from machined billet aluminum. Chassis is all aluminum. Surfaces are an extremely durable powder-coated finish.
Independently Driven LED Strings
Each string of LEDs is provided an independent precision current source. Many competitors wire their LEDs into a combination a parallel and series current paths. Over time and due to tiny differences in each LED, some paths will draw too much or too little current causing irregular lighting and reduced LED life. Macro-Blue avoids this by precisely controlling the current to each LED. This ensures the longest life and uniform lighting.
Power Efficient
Excluding LED lighting, the MA-Series only consumes 13W of energy. Both the LEDs and electronics are conductively cooled to the aluminum bezel and chassis. The MA-Series runs so cool, that no fan is required. This avoids contamination of internal circuitry, especially around salt air or dust environments. Most competitive monitors require a fan and cooling vents.
Resilient to Abnormal Conditions
While optimized for 24-28 volt operation, the MA-Series can run continuous anywhere from 10 volts up to 38 volts DC. Additionally, it continues to operate for limited periods up to 80V per DO-160 and withstands 600V power spikes. The MA-Series continues to operate without blinking during cold engine starts and severe load dumps, where others fail. If operated outside rated limits, circuitry will protect the unit during excursions from -80V to +100V.
Reverse Battery Protection
MA-Series power circuits contain extra protection circuits. In addition to overvoltage protection, should a battery or ground power unit be hooked up to the airship with reversed polarity; the MA-Series will protect itself.
| DESCRIPTION | MA10 | MA12 | MA15 |
| --- | --- | --- | --- |
| ASPECT RATIO | 4:3 | 4:3 | 4:3 |
| DISPLAY ACTIVE AREA (in) | 8.3" x 6.2 | 9.7" x 7.26" | 12.0" x 9.0" |
| RESOLUTION | 1024 x 768 XGA | 1024 x 768 XGA | 1024 x 768 XGA |
| MECHANICAL ENVELOPE (in) | 10.6 x 9.0 x 5.96 | 12.0 x 10.25 x 5.96 | 13.85 x 11.25 x 6.14 |
| LUMINANCE/ DAY MODE | 1400 NITS (Day) | 1200 NITS (Day) | 1300 NITS (Day) |
| LUMINANCE / NIGHT MODE | 45 NITS (Night) | 35 NITS (Night) | 55 NITS (Night) |
| CONTRAST | 5.8 Cl | 7.1 Cl | 7.1 Cl |
| ANTI-REFLECTIVE GLASS | MIL-C-675 and MIL-C-14806A | MIL-C-675 and MIL-C-14806A | MIL-C-675 and MIL-C-14806A |
| NVIS STANDARD | MIL-STD-3009 | MIL-STD-3009 | MIL-STD-3009 |
| CONTRAST STANDARD | MIL-L-85762A | MIL-L-85762A | MIL-L-85762A |
| | | | |